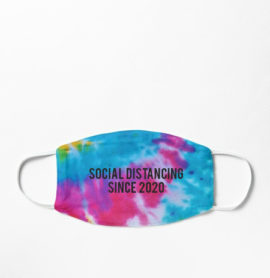 £3.50
Available with or without "Social Distancing since 2020" slogan
Each mask is hand dyed creating a unique pattern everytime.
This is a general use face mask. This mask is neither a medical device, nor personal protective equipment. It is not intended for use in healthcare settings and it is not proven to reduce the transmission of disease.
100% Cotton
Fastening: Pull-On
£6.00
Each one of our tie  dye bags is unique and is only available as a single item, so once it's gone, it's gone!!
100% Cotton
Re-usuable Tote Carrier.
Perfect for Gym, Shopping, Days Out.